We are very proud to share our new website and brand identity with you. A fresh Absolute, you might call it. In this article, we explain how Absolute's evolution over recent years has resulted in this new visual identity. Let's dive in.
A new creative wind
A lot has changed for Absolute – and we're not even talking about the destructive virus that has disrupted pretty much everything over the past two months. No fewer than five (!) new members joined our dream team, each with a specialised skill set providing added depth to our full-service approach. Our expertise has never been more varied, with specialisations in digital, graphic and motion design, strategic and content marketing, photo and video shoots, etc. Combined with a fresh injection of new insights and bubbly personalities, Absolute is feeling more complete and confident than ever and we're bursting with creative energy, eager to tackle any of your communication projects.
After more than 15 years of experience and passion for creative communication, we feel we have firmly cemented our position. No need for extravagant effects to create a "wow" factor. Our expertise, projects and clients speak for themselves and prove our worth as an ideal partner for all your communication projects.
Arnaud (Founder & Creative Director)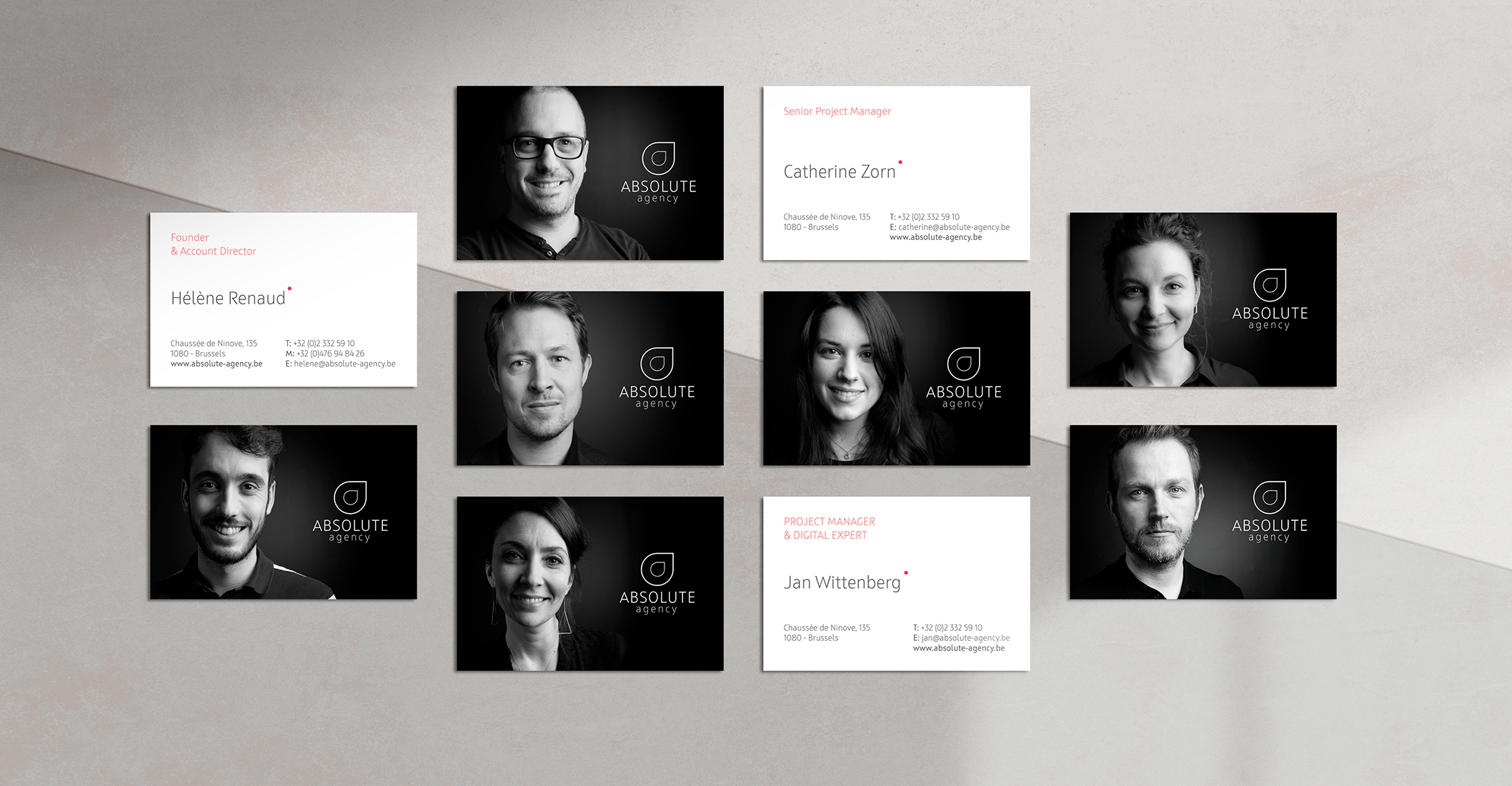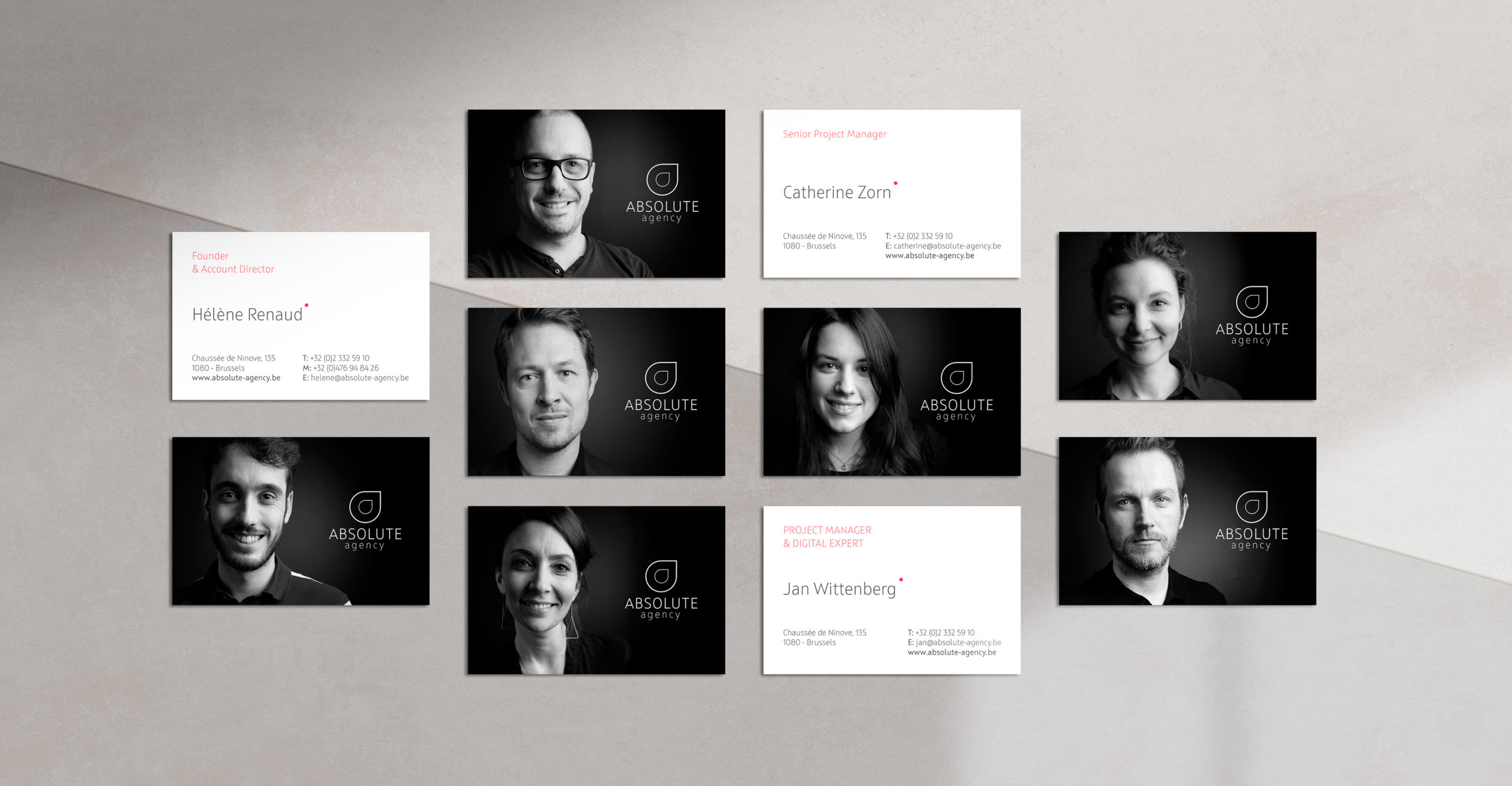 Organic evolution
These changes inevitably started leading to a creative itch. An itch all too familiar to creatives. We began to feel less at home in our previous branding, and the website became outdated, poorly reflecting our progress and growth of recent years. It was time to get those creative juices flowing.
With our new identity, we weren't aiming to reinvent Absolute's world. However, we were looking for an organic evolution that synchronised our branding with what we've become today: a communication agency with steady, creative and rational growth.
Arnaud
The visual identity explained
Whereas our previous branding was very colourful and in your face, our new visual identity is all about minimalism and subtlety. The only colour we use is the touch of coral you'll see throughout our communication. It's a colour carefully chosen by our design team, based on the gradient of our previous identity. By doing so, we stay connected with our roots, values and DNA.
The colour coral is subtle and soft, yet powerful. It's the right balance between passion and subtlety – the perfect match for our own philosophy. It symbolises our long-term confidence.
Arnaud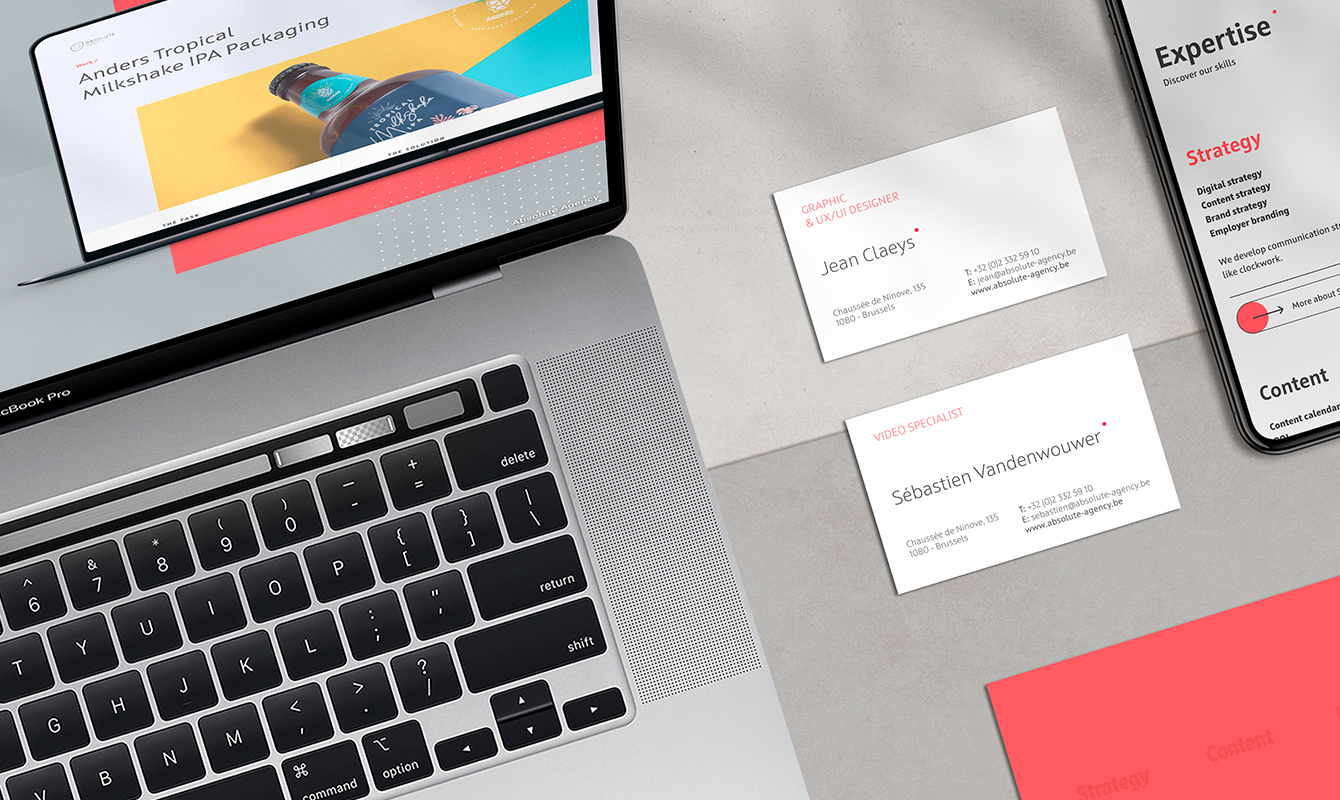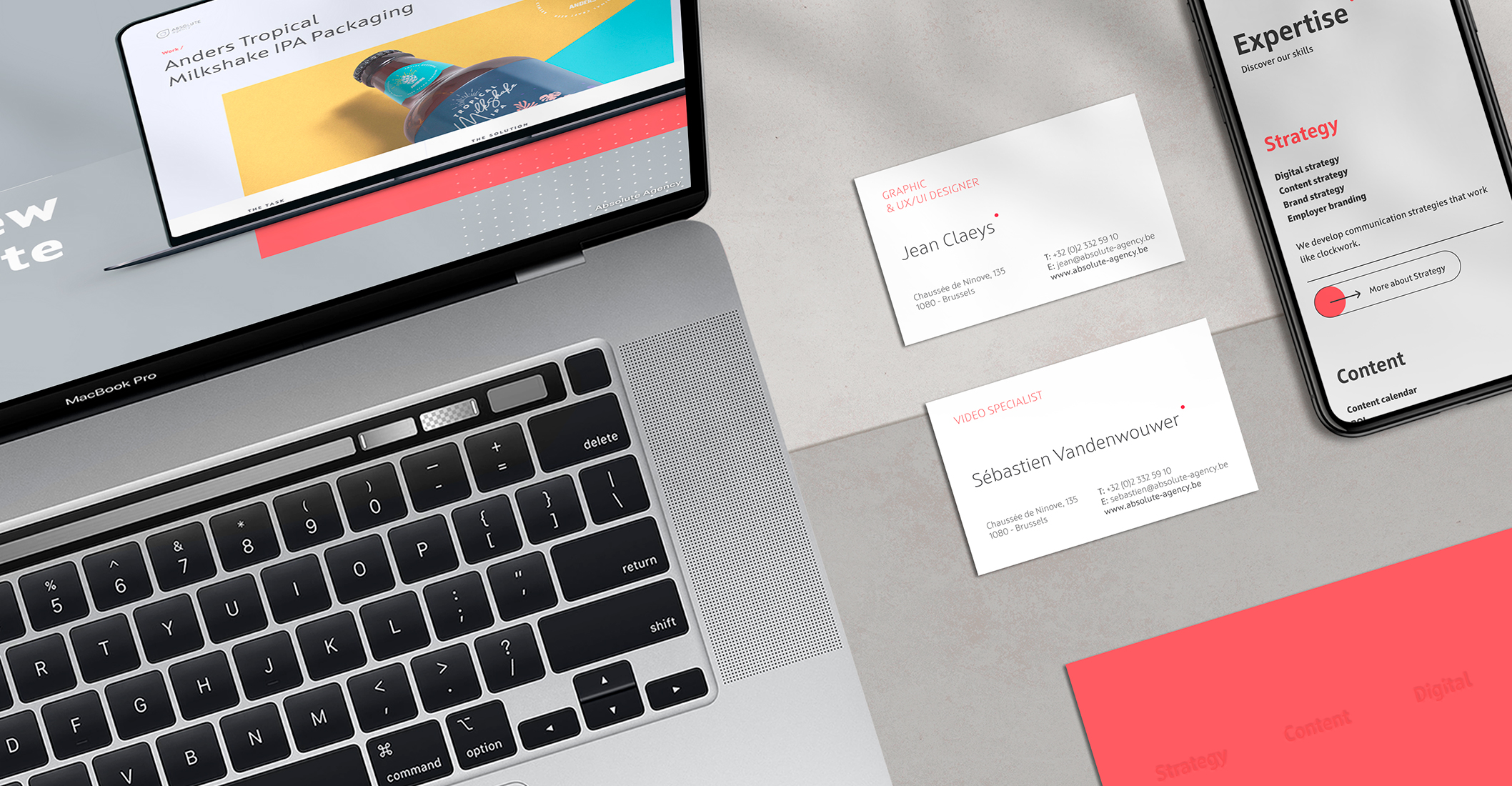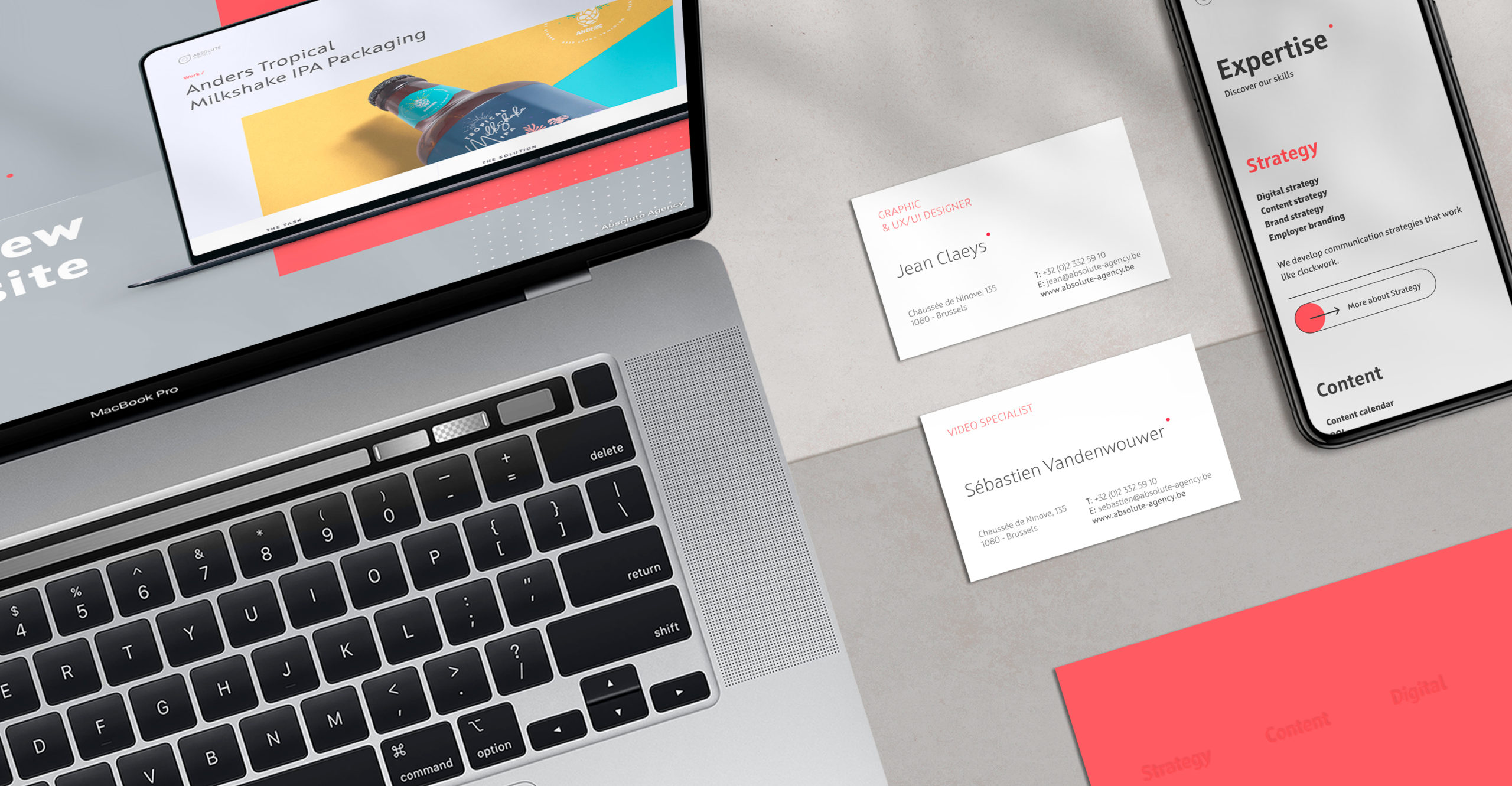 The choice of our new font was for us – font geeks – of course, at least equally as important. We fell in love with the very font you're reading right now. It's original, minimalist, subtly aesthetic and very readable for both web and print purposes. It shows our confidence and clarity of thought at the same time.
The web approach unravelled
And last, but definitely not least, we rebuilt a whole new website. Nothing was sacred and everything was up for discussion. We wanted a website that we could use as a true platform to showcase our expertise and the projects we are proud of. We also want to share with you the knowledge and expertise we have gained throughout the years, so we developed a new section called Insights where we will post a lot of quality content, such as podcasts, blog articles, interviews and Absolute news.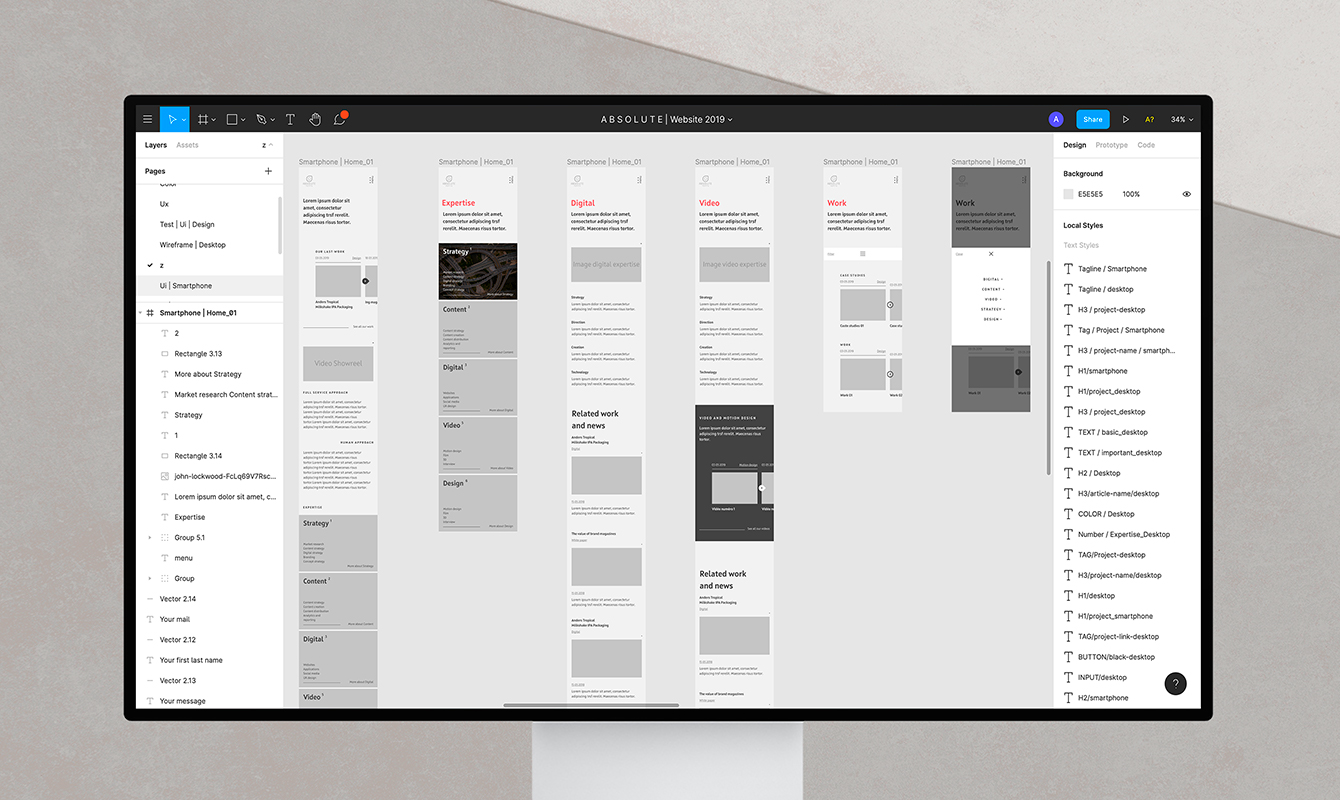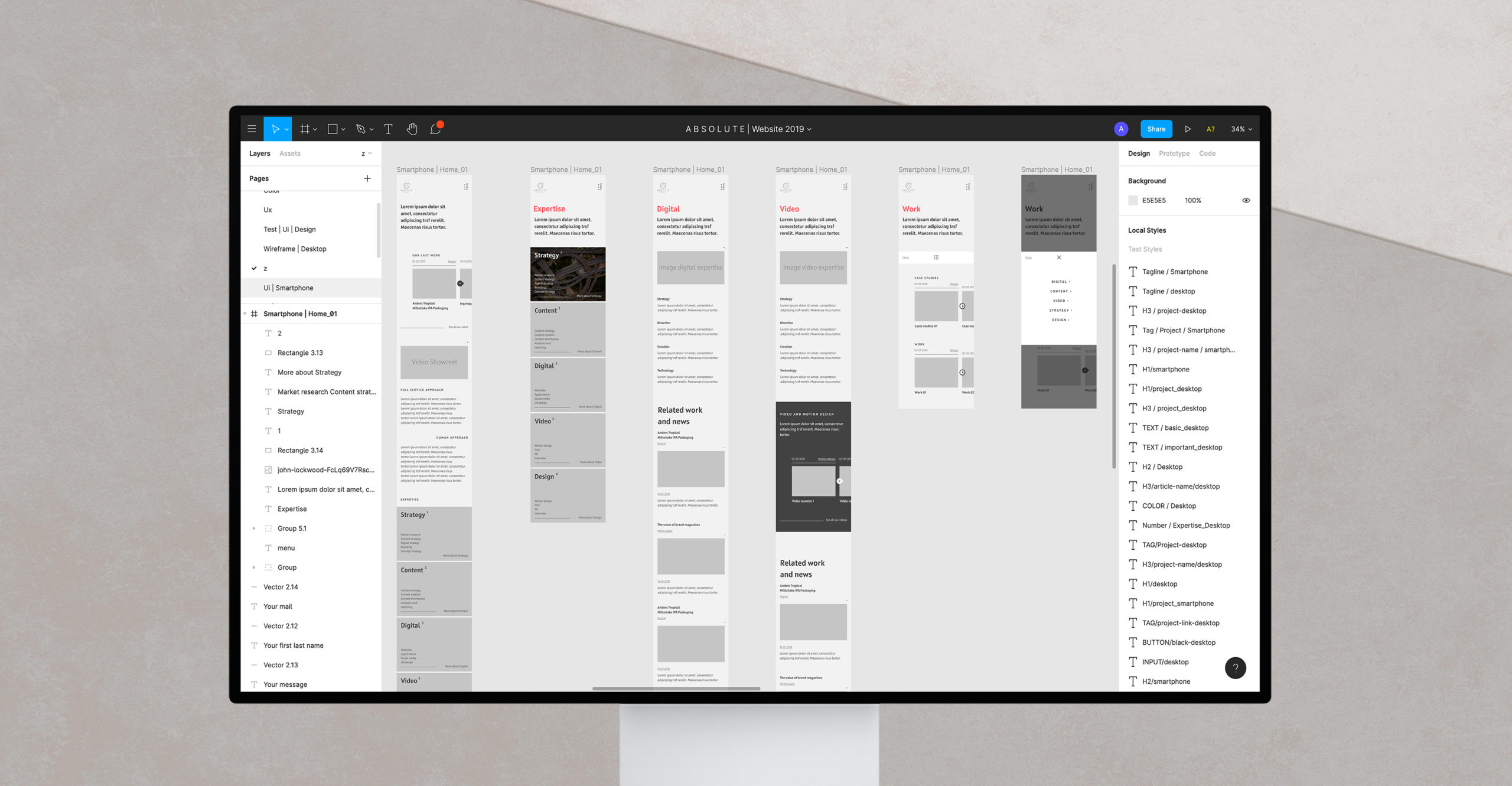 Again, the look and feel of the website is very minimalistic, which is done deliberately to put our projects and ourselves more in the spotlight. It also makes our website very user-friendly and easy to navigate with all information easily found. For example, we designed the homepage in such a way that the visitor can find all the essential information about Absolute Agency in one place. Finally, we incorporated the crucial, human aspect of our DNA by adding videos and images of Absolute's day-to-day life throughout the website.
At Absolute, we're not afraid of some empty space! We created a website that feels more open than the previous one, allowing us to concentrate on what really matters: our creative work – and most importantly – all our team members who make Absolute truly shine.
I would like to thank the team around me who made this project possible. Their creativity, deep thinking, critical analysis and shared vision can be felt in every pixel of this website. 
Arnaud
We invite you to explore our new website and visual identity. Have a play, look around, learn something new. And of course, don't forget to have some fun along the way.